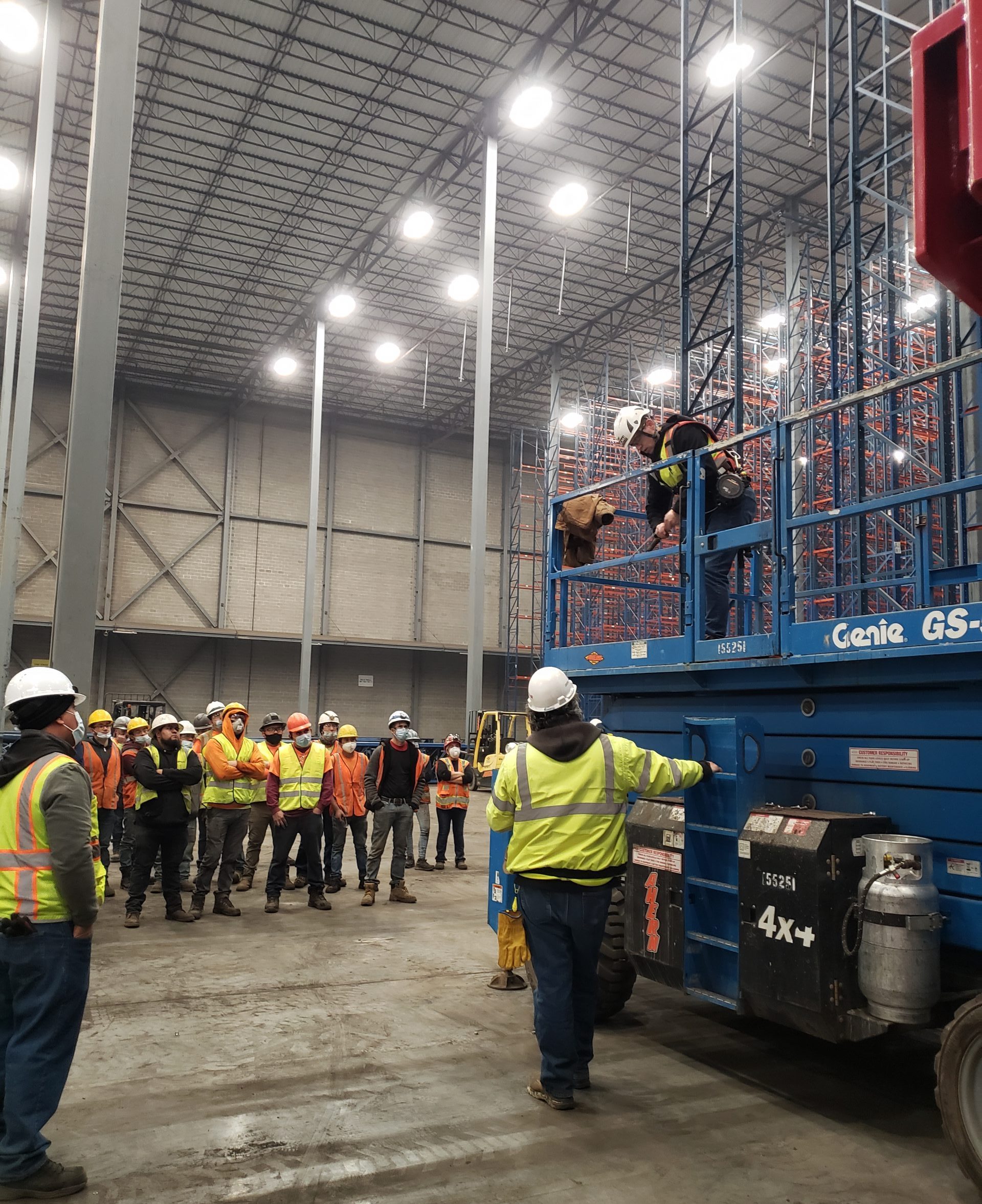 In November, CMI and a general contractor held a Safety Stand-Down at a Prologis construction site to ensure that the high-risk construction activities planned were done in the safest manner possible.  The first stand-down was in Elmwood Park, New Jersey, where Mike Kenyon, Manager of Health and Safety Services shared the hazards and risks the employee would be facing along with all of the protocols in place to ensure their safety throughout the project.  The stand-down focused on steel and pre-cast panel erection and covered several other high-risk activities to be completed.  The event emphasized the importance of planning ahead with safety in mind to prevent injuries and incidents from occurring.  To show their support for the stand-down, workers pledged their commitment to working safely by signing a project safety banner and receiving high visibility t-shirts in appreciation of their efforts and commitment.
Next CMI facilitated a stand-down in Spanish with a translator at a Prologis project in Florence, New Jersey.  The redevelopment of the site included the decommissioning of a large warehouse using large mobile elevated work platforms (MEWPs) to detach 50+ foot racks from the ceiling following by grinding, cutting and disposal of all building materials.  Workers used personal fall arrest systems in the scissor boom lifts on the racks while dismantling each section safely.  With over 60 demolition workers and supervisors in attendance, CMI shared the importance of pre-planning and all of the safety protocols that needed to be followed to complete the project with no injuries or incidents.
Mike demonstrated proper use of self-retractable lifelines (SRLs) during the different demolition tasks.  CMI Safety & Health Specialists, Steve Ondich and Will Manogue discussed the importance of inspecting fall protection equipment (harnesses, self-retractable lines, and anchorages) and encouraged the use of cut resistant gloves.  The workers in attendance were delighted to see the safety support provided and were highly engaged in the training.
If you are not using Safety Stand-Downs, reach out to Mike Kenyon to see how you can use them before, during, and after construction operations to prevent injuries, protect life and improve your safety culture.  CMI provides speakers for all types of events and has the capability to train workers in multiple locations and languages.  Contact us today.