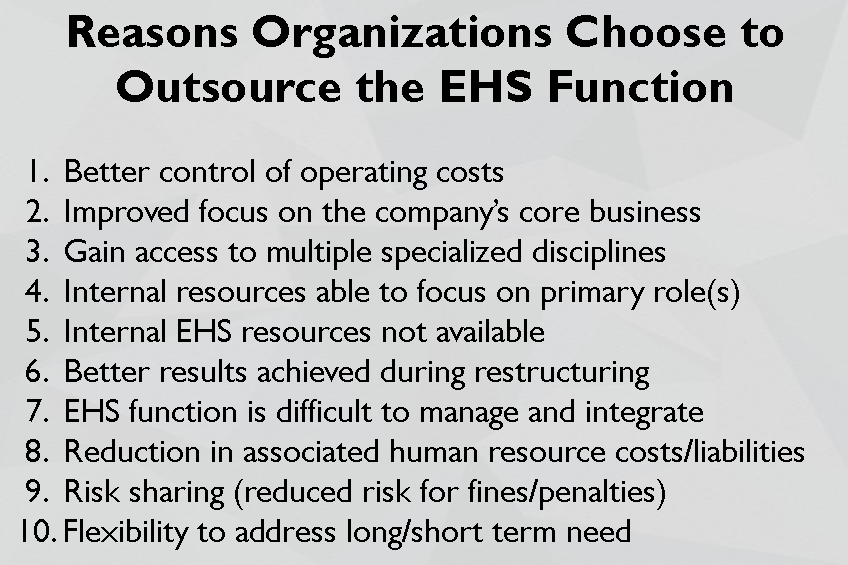 CMI's proven reputation for quality and cost-effective EHS outsourcing services differentiates us from other EHS firms. Our experienced EHS professionals are readily available to be part of your operational team.  CMI has efficiently managed the day-to-day EHS programs for hundreds of clients covering thousands of facilities internationally. Our outsourcing services fulfill or complement the EHS management function, and  are offered under various alternatives to address the unique needs of our clients including:
Full- or part-time support for a single facility or multi-site operation
Complete and comprehensive outsourcing for regional or global operations
Specialized support for a corporate specialty area (i.e. industrial hygiene or remediation)
Temporary support (during transition of staff or for completion of large projects)
The EHS Outsourcing Solution
Have you quantified all EHS costs and how they impact your profitability?
Are you confident that all of your current EHS exposures/liabilities are being addressed?
What disruptions and losses occur upon EHS personnel departure?
How do you know when EHS outsourcing is a viable option for you?
How effective are your EHS programs?
What are the factors to consider when implementing an EHS outsourcing program?
For answers to these questions contact us at (800) 701-9369 or cmi@complianceplace.com and request a copy of our EHS outsourcing manual.
This global producer of containers and labeling products chose to outsource their EHS compliance programs. After proven success with our initial engagement, CMI now provides EHS outsourcing at numerous locations. Services include air permitting and reporting, storm/wastewater management, waste management, SPCC/PPC plan development, OSHA compliance, and training.
CMI provides direct EHS management on an outsourced basis to a multibillion dollar international information technology corporation with over 300 service facilities in the U.S. Services provided include OSHA/ISO compliance, safety assessments, compliance validation audits, indoor air quality and industrial hygiene support, and environmental compliance support.
CMI is the sole source provider of safety and health services to a self-insured state government with over 80,000 employees located across 2,400 sites. The goal of this assignment is to prevent and reduce the frequency, severity, and cost of work-related injuries and illnesses. CMI conducts safety program gap assessments and develops and implements policies, procedures and training.
CMI was engaged by an international chemical company with over 40 locations in 10 countries to conduct an assessment of EHS and product stewardship processes. CMI conducted a baseline assessment, identifying over three million in savings and worked closely with company management to develop and implement the strategy for incorporating EHS into daily operations across all sites.
This global provider of packaging products has contracted with CMI over the past ten years to provide day-to-day outsource management of their EHS programs. CMI provides continual onsite support including air and water permitting, emissions monitoring, environmental reporting, hazardous waste management, OSHA compliance, safety inspections, and EHS training.
CMI was selected by a leader in electronic instruments and electromechanical devices with over 200 global locations to provide outsourced support on an as-needed basis. Assignments encompass all aspects of EHS compliance including safety systems, job safety analyses, accident prevention programs, safety committees, and environmental reporting/permitting.